Real Simple: The Organized Home
from the editors of Real Simple
*****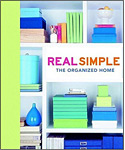 "For many people, the idea of getting organized is far more daunting than the reality of doing it. If you need an incentive to start, keep in mind that a small investment of time now will have a large payoff later. Approach this book as you would approach your own house: Enter the foyer and proceed into the living and family rooms to the kitchen, the bedroom, the bathroom, and beyond."
And that's just what I did while exploring this book.
As soon as I started perusing the pages, I felt inclined to take out
a spiral notebook and write down what changes I'd like to make in our home, starting with the entryway. Most of what
I have planned is to make it more marketable for buyers, but there's no harm in changing it for the better in case we are here longer than we want to be. Anyone who embraces the idea of simplifying their lives will enjoy this book. Those who get a real

charge

out of organizing and having our home as efficient and pragmatic as possible will relish it.
Toward the back of the book are several strategies for getting started by streamlining daily practices to ensure that clutter never makes a home in your abode. An extensive shopping guide provides resources for items to make your organizing just a bit more fun. This book would be helpful
for those needing a jumping off point. For those of us who already adore all things organizational, it can offer a fresh perspective and a motivational boost.