I decided that I wanted to make some of these plant markers.
Our seed order is being placed this week
and I'll be needing some.
So, instead of buying them,
I knew there just had to be

a way to repurpose something around here to make what I needed.
Then I came across Lisa's post.
The day started out well.
On my morning bike ride,
I found this in someone's recycle bin.
Score!
Most of the trays I had were recycled or given away.
Now, with Farm School inspiring me,
I'll need to collect a few.
The original supplies for these markers included bamboo skewers.
We had leftover yellow duct tape from Lil' Guy's
Halloween costume, so that was used.
I folded the tape over on itself,
leaving a 1/2" tab to adhere to the straw.
Lined it up...
and firmly pressed it together.
What'd that take? A half a minute?
Faster than going to the store or ordering online!
The seed variety and date was written on the markers
with a Sharpie.
Love Sharpies.
A few extras for upcoming planting.
These are so easy, they can be made as needed.
In go the Calabaza seeds.
The tray underneath the seedpack is the lid from
an unused storage container.
It'll catch any overflow watering
and keep the patio a bit cleaner.
We're on our way!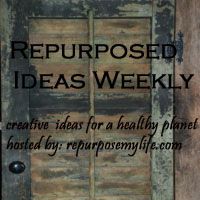 repurposedideasweekly