Aromatherapy: The A-Z Guide to Healing with Essential Oils
by Shelagh Ryan Masline and Barbara Close
****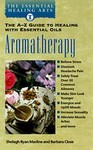 "Filled with both traditional wisdom and the latest research, Aromatherapy contains all the information you need to purchase and use these powerful, magnificent oils. It includes:
*Healing and sensual massages
*The luxurious European sitz bath
*Facial steam bath and rejuvenating clay mask
*Transcendent baths for relaxation and hydration
*Elegant hydrolat baths for clear, healthy skin
*Specific remedies for dozens of health problems from acne to varicose veins
With Aromatherapy you'll find foolproof ways to diminish headache pain, safely treat over 50 common ailments, alleviate stress, energize and uplift moods and much more."
This guide is a great resource for folks like me who are just starting to learn about this alternative healthcare option. Being interested in a more natural way of dealing with illness, this book attracted me. It's also comforting to know that our health is something that we can influence everyday by the choices we make. Eating a balanced diet and exercise are two ways to accomplish this. Adding essential oils can enhance our lives by keeping us proactive in our own healthcare. The alphabetized order of the book makes it easy to look up just what you need. This is one book I plan to add to my library.