They were placed in the front of the bed to be used as a border.
You go that way, I'll go this way...
These have sweet lavender-colored flowers when in bloom.
The bonus is harvesting delicious sweets for your supper table.
Here's how our pineapple started out.
It's just a bloom in the center of the plant.
It grows right on these sharp, spiked leaves.
When it's this color, and smells sweet,
you just hold it by the base and twist.
This is the biggest one we've grown thus far.
It was sweet as shu-gah!
Before the veggie bed, the clothesline and pretty much anything else,
we had a solitary rain barrel.
We don't have gutters,
so it's very helpful to have these vessels to catch
the flood of water coming off of the roof when we get a deluge.
A few years later, we added the square-foot veggie bed,
As you can see, this plumbego took off
and now hides both barrels in the corner.
We don't have a fence, so we wanted to protect the barrels
from the wandering eyes of the HOA.
I will never be without rain barrels again.
They are so handy to have right in the garden.
I use the water in them not only to water plants,
but to do any kind of outdoor cleaning chore
like rinsing dirty hands or pots,
washing out recycle bins and a host of other things.
If threatening weather occurs,
it's good to know we have an extra 165 gallons of water
should it be needed due to power failures or damage to the house.
It's fun looking back on where we've been
knowing that every step was necessary
to get to where we're goin'.
Enjoy the magic in the everyday.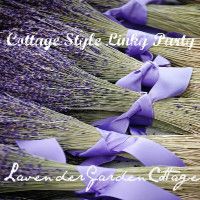 backyard farming connection hop