One of the many blessings of being a homeschooling family,
is getting to each lunch at home together daily.
Not only does it allow us to enjoy each other's company,
it fosters a fee

ling

of independence.
My son is learning how to make real food
and becoming more responsible for his own choices.
I found a way to make it easier for both of us
so that we can enjoy our family noontime meal.
A simple menu was printed up
with most of the dishes he enjoys on a regular basis.
Taking into consideration his multiple allergies,
the selections are all safe for him to eat.
It's posted right next to h

is seat at the table.
I had to add my own twist to the menu.
I'm like that...
What a blessing to be able to spend so much time
with my favorite person in the world.
The menu gives me one less thing to have to decide
and gives him a feeling of

control
about

his own health and well-being.
It's a win-win!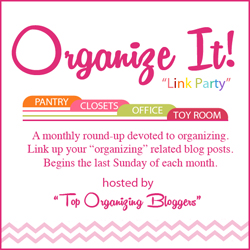 Organize It! link party