This is a hop for folks who love the outdoors.
Feel free to post about anything that's going on
OUTSIDE
in your neck of the woods,
no matter the season.
(Please share only outdoor posts.)
*Grab the button above to link back to Maple Hill 101.*
Have you heard about the new honey harvester in town?
OMGosh!!!

It's called

FLOW

.
It is a revolutionary way to harvest honey
with less effort, less work and less stress for bees.
It's nothing short of amazing.
Click on the video to see how it works.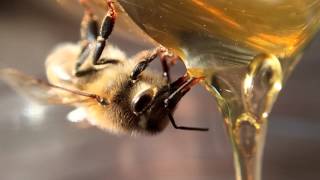 One of my goals for the new homestead is to host bees.
We believe that everyone can be a part of the solution
to colony collapse disorder.
By becoming beekeepers, we support this most vital
of environmental wonders.
Think of how many foods would no longer be available
if the world's bee population faced extinction.
The USDA makes this statement:
"About one mouthful in three in our diet
directly or indirectly benefits from honey bee pollination."
That's a lot of food,
and a ton of folks affected by this predicament.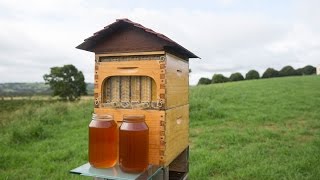 With this incredible new method,
nearly everyone can assist in the recolonization of our humble but priceless bee population.
There's really no reason why anybody can't do this,
(except maybe if you're allergic to bees).
Even where I currently live in suburbia
would be a safe haven for bees to work their magic.
From their website:
Turn the

Flow™

Key and watch as pure, fresh honey flows right out of the hive and into your jar.
No mess, no fuss, no heavy lifting, and no expensive processing equipment.
Through the clear end-frame view, you can see when the honey is ready without opening up the hive.
The extraction process is so gentle, the bees barely notice at all.
Our revolutionary

Flow

system makes the extraction process far less stressful for the bees
and so much easier for the beekeeper. "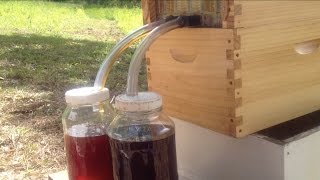 My mind started working overtime thinking of the possibilities.
Not only would this be a wonderful faith-based, school, home or community garden project,
think of the opportunities for impoverished folks.
This would be a way for them to provide a tremendous product
while having a means of support for their families.
The potential is there to make a real difference in so many lives.
What an astonishing accomplishment.
Let me know what you think about this stellar innovation.
(All images are from the FLOW website.)
What's new outside where you are?
HOP on!