Welcome to the final installment of our Summer Series,
Every Friday, we have explored a different crop
that you can grow in your own garden.
Whether you're in mid-harvest, looking ahead to your fall garden,
or just thinking about growing your own,
we hope this series has inspired you.
We begin with planting from seed or seedling,
and end up with a scratch recipe.
Thank you for all of the lovely comments we've received
about this series.
************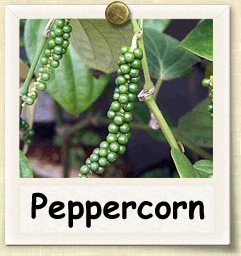 source
Peppercorn seeds can be soaked overnight to soften the seed coat
and can be sown 1/4-1/2 inch into the soil.
Peppercorn germination can be slow, up to 30 days,
and it prefers warmer temperatures,
between 75 and 85 degrees.
In more southern climates, this unique plant enjoys full sun with some shade during the day.
In more northern states, it can be grown in a greenhouse
or as a houseplant.
It requires misting, but not much watering
and doesn't like wet feet.
When temperatures reach 65 degrees,
it will slow its growth rate, and could be placed inside on a sunny window sill.
Blooms begin in late summer with peppercorns forming in December or January.
This slow growing perennial vine can reach heights of 15 feet tall,
and may take anywhere from 1 to 2 years from planting to production.
From "Off the Grid News"-
"Peppercorns form in clusters of fruit that slowly ripen from green to red.
Once harvested, the red peppercorns are separated and dried,
either in the sun or in a food dryer for about three days.
The process is complete when the peppercorns are blackened and fully dry.
At this point, they can be ground as black pepper."
At Faye and Lynn's farm, we have them in small pots
and they are climbing trellises for support.
They have enjoyed a shady spot during the summer,
but may be moved to a sunnier location as fall is ushered in.
What a gas to grow your own table pepper!
We featured these delicious crackers a while back.
Here's the original post.
Parmesan Crackers
Ina Garten
1 stick unsalted butter, room temperature
1 C grated Parmesan cheese
1 t thyme
1/4 t sea salt
1/4 t fresh ground pepper
1 1/2 C unbleached flour
1 t water (if needed)
Cream butter with cheese and herbs.
Add flour to mixture,
including water if needed to pull dough together.
Roll into a 9" log, cover with waxed paper
and refrigerate at least 30 minutes.
Cut into 1/2 inch slices,
and place on a parchment-lined cookie sheet.
Bake at 350 degrees for 22 minutes.
Enjoy!
Lemongrass
Leek
Parsley
Avocado
Pigeon Peas